Rules for writing reviews

The review must necessarily be about a specific material (not about the uploader, not about the author and all his works in general)

Forbidden:


Use of profanity (mat)
Writing a review in whole or in part in CAPITAL letters (Caps Lock)
Expressing your opinion without supporting it with arguments
The use of links to third-party sites, or the use of images/videos/other content containing the aforementioned links

Reviews that violate these rules, as well as reviews that are essentially not reviews, but comments will be deleted without warning, and malicious violators will be deprived of the opportunity to add reviews on the site!
There are no reviews yet. Be the first!
Version 1.0 for BeamNG.drive (v0.24):
Tropical island with big dirt racing track, big rally track, 4 offroad tracks, big airport and big city center.
Changes:
- The map disappeared in certain places, fixed;
- Bumpy road smoothed;
- Floating objects removed;
- Artificial intelligence works better.

Added:

- A bit of lighting;
- Coating;
- New long bridge;
- New mountains with off-road tracks and a small town;
- New small airport (and updated main airport);
- Easy access to rally tracks;
- More pointers.
Uploaded By:
Swordself14
15 May 2022 at 11:45   Published By: 22 May 2022 at 12:12
Download map
from ShareMods
Download map
from ModsBase
---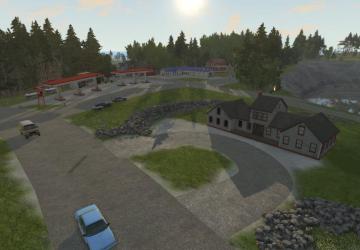 Version 0.8 for BeamNG.drive (v0.24):
A tropical island with a large dirt race track, a large rally track, 4 off-road tracks, a large airport and a large city center.
Uploaded By:
Swordself14
25 April 2022 at 22:57   Published By: 28 April 2022 at 13:44
Download map
from ShareMods
Download map
from ModsBase
---